By Jillian Wertzberger & Frances Woo
---
February 1, 1984
In 1984, California state assemblymember Tom Bates authored Assembly Bill 3251 that clarified the language of the Higher Education Employer-Employee Relations Act.  It mandated collective bargaining rights for UC student employees by stating that graduate students were employees and not apprentices.  It further stated that graduate student unions had to be recognized by their universities. Members of the UC Berkeley Association of Graduate Student Employees (AGSE) met with Tom Bates, the democratic state legislator from Berkeley. 
Image Credits:
[Jacquelyn Affonso / Daily Nexus / February 1, 1984]
[Affonso, Jacquelyn. (February 1, 1984). Bill Will Provide for Collective Bargaining.
The Daily Nexus.
Retrieved from
https://alexandria.ucsb.edu/downloads/w0892c12c
]
February, 1984
In February of 1984, 1,300 UC Berkeley graduate students went on the first strike for recognition of their union, the AGSE. The union had filed unfair labor practice charges against the UC with the Public Employee Relations Board (PERB) in order to gain the right to collectively bargain. The unrecognized union had pressured the UC into giving small pay increases and improving grievance procedures. However, since the UC didn't consider them employees, the graduate students didn't have collective bargaining rights. The 1979 Higher Education Employer-Employee Relations Act declared that if a student was doing work that related to their career path, they were considered an apprentice, not an employee, and didn't have the right to collectively bargain. This made it difficult to negotiate for benefits, smaller class sizes, or any other major changes. At the time of the Berkeley strike, 50% of TAs at UCSC had already joined a union.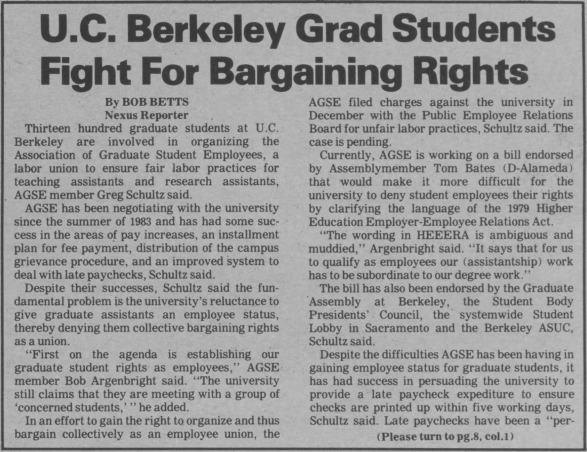 Image Credits:
[Bob Betts / Daily Nexus / February 23, 1984]
[Betts, Bob. (February 23, 1984). U.C. Berkeley Grad Students Fight for Bargaining Rights.
The Daily Nexus.
Retrieved from
https://alexandria.ucsb.edu/downloads/sj139291t
]
May, 1984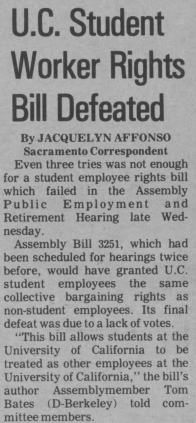 In May, the bill failed in Assembly Public Employment and Retirement Hearing due to a lack of votes, but the AGSE was optimistic it would be reintroduced. The UC Director of State and Government Relations responded saying he thought the bill would create "adversarial relationships between students and faculty members." A written statement from the AGSE stated that the "administration makes unilateral changes in basic employment policies, job categories and pay rates, often without any explanation, let alone prior consultation." 
Image Credits:
[Jacquelyn Affonso / Daily Nexus / May 25, 1984]
[Affonso, Jacquelyn. (May 25, 1984). U.C. Student Worker Rights Bill Defeated.
The Daily Nexus.
Retrieved from
https://alexandria.ucsb.edu/downloads/pg15bg03w
]
1992-1993 – Multiple Strikes at UC Berkeley 1992-1993
Beginning in November 1992, over 1,000 graduate students at UC Berkeley went on strike after months of failed negotiations between the UC and the AGSE/United Auto Workers (UAW). The strike was widely supported by professors and undergraduates; 70% of classes were cancelled, only 2% of remaining classes could be considered "full." Faculty members collected 600 signatures for a petition to support the union. Teamsters, truck drivers who belong to the UAW, didn't make deliveries to UC Berkeley.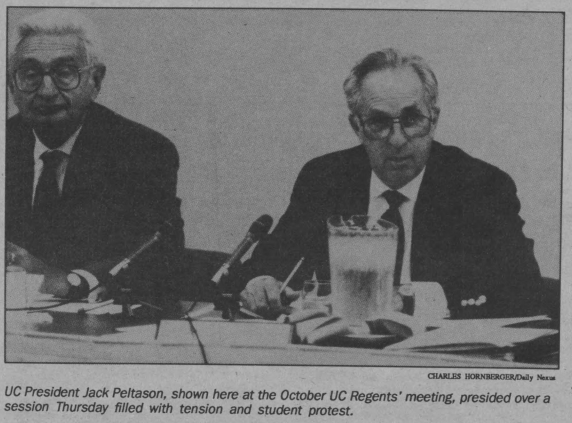 Image Credits:
[Charles Hornberger / Daily Nexus / November 20, 1992]
[Miralle, Anita. (November 20, 1992). Grad Students Striking at Berkeley.
The Daily Nexus.
Retrieved from
https://alexandria.ucsb.edu/downloads/ng451j57b
]
USCS joined the strike in late November 1992. UCB and UCSC continued negotiations with the UC Office of the President (UCOP), but came to an impasse over collective bargaining rights. Members of the AGSE decided not to grade students' work fall quarter, and to withhold grades until they reached an agreement with the UC. 70% of classes at both campuses were cancelled, and teamsters still refused to make deliveries. UC Davis and UC San Diego graduates protested in solidarity with graduate students at UCB and UCSC. At UCSB, the Graduate Student Association created a graduate student bill of rights. UCB continued to strike into the winter quarter. 
[Miralle, Anita. (December 3, 1992). Campuses Crippled by Striking Grad Students.
The Daily Nexus.
Retrieved from
https://alexandria.ucsb.edu/downloads/05741t00r
]
[Miralle, Anita. (January 6, 1993). Renegade Sexists Studying in South Hall?
The Daily Nexus.
Retrieved from
https://alexandria.ucsb.edu/downloads/gx41mk23t
]
December 2, 1998
December 2, 1998, was the beginning of the strike to obtain recognition for the Associated Student Employees union, which had affiliated with the United Auto Workers union. (ASE/UAW). TAs, graders, and tutors refused to hold sections, office hours, or grade assignments until the UC recognized their union in an attempt to prove that they are employees as well as students. Close to 60 TAs and supporters marched in front of Davidson Library. The strike was divisive among grad students, some were satisfied with working conditions, thought striking is bad for undergraduates, or didn't trust the UAW. One graduate student commented that she was "totally taken care of" with "nothing to complain about." It was equally divisive among undergrads, with one student commenting, "they should fire all the TAs and replace them with new ones," and another saying that better working conditions for TAs means better education for undergrads.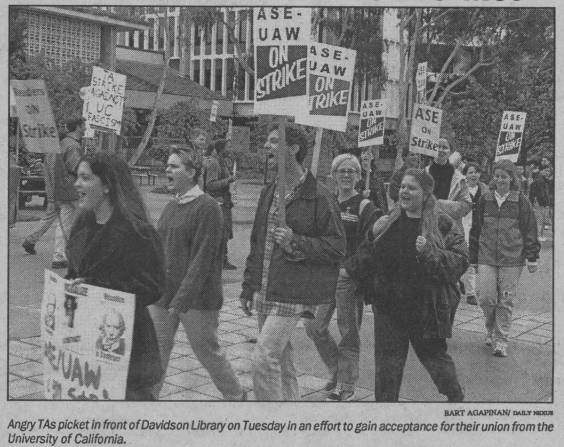 Image Credits:
[Bart Agapinan / Daily Nexus / December 3, 1998]
[Webb, Kerri. (December 3, 1998). TA Strike To Proceed Until Demands Are Met. 
The Daily Nexus.
Retrieved from
https://alexandria.ucsb.edu/downloads/z029p595f
]
February 8, 2000
During bargaining sessions between the UAW and UC, a group of concerned students arrived at the meeting.  Upon arrival, the students, consisting of three union-member graduate students and concerned undergraduates, found the room locked.  Frank Wilderson, the active elected bargainer, identified himself and requested access to review the documents and participate in this discussion.  He was locked out after repeatedly explaining the unlawful nature of this discussion.  They waited outside the building until the door opened and the members walked out without explanation or comments.  The students followed these members into the parking lot asking for explanations and demanding Wilderson's inclusion.  They continued asking questions to Tanya Mahn, a member of the UAW, and followed her as she walked to her car.  One student stood in front of her car, demanding answers, and Mahn bumped him and another student with her car.  The two undergraduates filed charges for assault with a deadly weapon to the cops who later came onto the scene.  This opinion piece outlines the incident and is written by Jared Sexton, a member of the AGSE and UAW.  
[Sexton, Jared. (February 8, 2000). Bargaining Practices Exclude Members. 
The Daily Californian.
 Retrieved from
https://archive.dailycal.org/article.php?id=1475
]
2000-2003: UAW Contract Highlights
The UC recognized the Associated Student Employees, International Union, United Automobile, Aerospace and Agricultural Implement Workers of America (UAW), AFL-CIO as the exclusive representatives for matters under representation for Associated Student Employees Unit

Fee Remission: by 2002, 100% of annual educational and registration fees were waived for graduate students with academic appointments

The UC outlined a clear grievance and arbitration process

Graduate student employees were eligible for Student Health Insurance Program fee waivers

Associated Student Employees (ASE) were eligible for modified duties/leave during pregnancy and childbirth. No duties were to be required of ASEs during childbearing leave

UAW agreed to no strikes or work stoppages that interfere in any way with the University operations during the life of the contract or any written extension thereof. The UAW could not authorize or condone any strikes, and employees who participate in strikes could be terminated

UC agreed to non-discrimination in employment

UC had to make a campus wide posting of appointment opportunities, including the approximate number of ASE positions by department for the following year

Training/Orientation was to be considered part of workload for the term

Wage increases of 1.5%

UC set maximum weekly workload of 40 hours for TAs
2003-2006: UAW Contract Highlights
The UC recognized the UAW-2865, which represented all Associated Student Employees at every UC campus 

The UAW could not authorize "sympathy strikes," strikes in favor of other UC unions or bargaining units. However, individual employees could engage in "activities in sympathy" with other striking unions, but may not be paid in full if these activities interrupt their work

UC mandated maximum workload for six week summer sessions for teaching assistants

The UC must compensate and give fee/health care remissions (when eligible) to UAW bargaining committee members for two terms during which bargaining occurs

During ASE orientation, the UAW must receive ten minutes on the agenda 

The UC will deduct UAW membership dues/fare service fees from the wages of the graduate students and send them to the UAW on a monthly basis

Wages will increase 1.5% effective January 1st, 2004. 

Wages will increase 1.5% effective October 1, 2004 unless Senate Faculty do not receive a merit increase; wages will increase in an amount equal to the general range adjustments.  Undergraduate Readers and Tutors' hourly rates will be increased to $9.83, and Graduate Readers and Tutors' hourly rates will be increased to $10.35, plus any general range adjustments.

Wages will increase 1.5% effective October 1, 2005 unless Senate Faculty do not receive a merit increase. Wages will increase in an amount equal to the general range adjustments.  Undergraduate Readers and Tutors' hourly rates will be increased to $10.42, and Graduate Readers and Tutors' hourly rates will be increased to $10.98, plus any general range adjustments.
2006-2007: UAW Contract Highlights
June 27, 2007
At UCSB, TAs held a "Grade In" where they conducted work openly in the Arbor to show the excessive workload they received.  They held this demonstration while the UAW was in contract negotiations with the UC.  Bailey Clifthorne, the UAW president at the time, stated, "There has been an enormous increase in class size across the state, and it has become more difficult to provide quality".  The new contract would focus on issues such as class size and working conditions, and the UAW/UC aimed to conclude contract negotiations by October 2007.
October 2, 2007
To avoid potential strikes from TAs, the UAW and the UC created a tentative contract that included wage increases, improved healthcare, childcare, and new workload protections.  Details of the contract were yet to be released until voted on by members of the UAW.  Negotiations began in March and avoided a proposed strike that would have disrupted undergraduate classes.  Erik Love, a UCSB TA, expressed mixed feelings over the tentative contract, saying "I'm upset that once again, the UC was resorting to its illegal tactics…but obviously, I'm happy about the contract and eager to get back to work".
2007-2009: UAW Contract Highlights
The UC granted short term family related leave due to personal illness, family emergencies, or birth/adoption/care of a child or family member

The UC granted paid medical and family leave for 2-3 days and unpaid medical and family leave for the period of time beyond the duration of 2-3 days

The UC granted long term paid family-related leave of up to four weeks for an ASE who bears a child, and up to two weeks for the serious illness of an ASE or a family member of the ASE or for the care of a newborn or newly adopted child

The UC granted up to three days of paid bereavement leave due to the death of a family member

Wage will increase 5%

The UC established a childcare reimbursement program of up to $300 per quarter
September 24, 2009
On September 24th, students, faculty, and employees from 10 UC campuses participated in a UC-wide protest against an approved 20% budget cut, a proposed 32% increase in student tuition, and a 4-10% pay reduction for mandatory faculty furlough days.  Several classes were cancelled as faculty members and students participated in the walk out.  Demonstrators chanted, "no cuts, no fees, education should be free", and one group labeled these fee hikes as "twisted and racist", as it would mean more low-income and ethnic minority students would not be able to afford tuition.  "A spokesman for the group Graduate Students of Colour said: 'Students of colour are asking a crucial question: Why now, and why us? California's population of college-age adults is majority black and brown. Whatever other reasons are cited, that underlying condition is left unspoken'" (The Guardian).  Over a thousand faculty members signed a petition proposing alternative sources of funding, including decreasing salaries of senior officials and education bosses and tapping into reserve funds.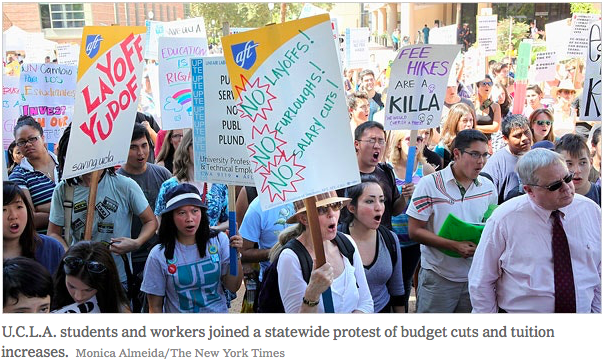 Image Credits: [Monica Almeida / The New York Times / September 24, 2009]
2009-2010: UAW Contract Highlights
November 23, 2010
A provisional contract between the UC and UAW consisted of "a minimum annual salary increase of 2 percent and the promise of additional increases, with a maximum 4 percent increase per year, if the state gives UC more money than it did in 2007".  Members of the UAW were set to vote on the contract from November 29th through December 2nd.  Five bargaining members of the UAW wrote an open letter to UAW members urging them to vote no on the contract.  One of the organizers, Brian Malone, stated, "This 2 percent increase in wages compared to the projected 3 percent inflation rate over the next three years is equivalent to us taking a pay cut".  He further stipulated that though there were increased coverage of childcare expenses, it was still not enough to cover the full costs.  
Brian Malone Interview: 2010 UAW Involvement
Brian Malone was a graduate student at UCSC who was elected into the UCSC UAW unit chair position in 2008/2009 and one of the five UAW bargaining members who organized the Vote No campaign on the 2010 contract.  In this interview, he provides critiques of the UAW, details on the structural takeover of internal party AWDU (Academic Workers for a Democratic Union), and his perspective as a bargaining member of the UAW.  
"…the critiques we had is that it was a very demobilized hierarchical union, like the sort of statewide executive board…it was very top-down…it was more business unionism type style than we would have liked".  

"Again, the Santa Cruz members voted overwhelmingly against that contract and then they got

stuck with that contract. And I think that really made them angry. And I think similar a lot of people at Berkeley were upset. Like, wait. This is a terrible contract. We voted against it, but we got stuck with it anyway. And so I think that was. Yeah, yeah, I think that was agitational in some ways".
2010-2013: UAW Contract Highlights
University will send a notice to hiring departments reminding them of their obligations in relation to written notifications no later than April 1st

Each eligible ASE shall receive up to $600 per quarter or $900 per semester (double from last time) for childcare expenses incurred during the academic year.  Each eligible ASE shall receive up to $600 for childcare expenses incurred during the Summer session(s)

ASEs are eligible for UC retirement plan coverage

Eligible ASEs may participate in UCSHIP (UC Student Health Insurance Program) on campuses that have elected to participate.  Davis, Merced, San Diego, and Santa Cruz participate in the program, but Irvine and Santa Barbara are anticipated to join in August 2011

The University will provide 4 hours of paid release time (including travel) to attend a quarterly, system-wide meeting discussing health insurance related issues

The UAW will increase their electronic transmission of deduction information by sending an Excel spreadsheet to the UC every month 

Wages will increase by 2% from 2010-2011.  Wages will increase by more than 2% depending on the percentage increase of the State General Fund from 2011-2012.  The general range adjustment may not exceed 4%.  Wages will increase by more than 2% depending on the percentage increase of the State General Fund from 2012-2013.  The general range adjustment may not exceed 4%.
April 22, 2011
Brian Malone, one of the five bargaining members of the UAW involved in organizing the Vote No campaign for the 2010 UAW/UC contract, wrote an opinion piece on Daraka Larimore-Hall's conflict of interest as UAW president.  He outlines Larimore-Hall's current positions as UAW president and Chair of the Santa Barbara Democratic Party as conflicting due to the power he has to disperse voluntary UAW political action funds to California candidates.  This piece is written in addition to Malone's critiques of the UAW, found in his interview here.
[Malone, Brian. (April 22, 2011). Daraka Larimore-Hall's Conflict of Interest.
Slug Organizing Committee.
Retrieved from
https://slugorganizingcommittee.wordpress.com/about/
]
Daraka Larimore-Hall Interview: 2011 UAW Involvement
Daraka Larimore-Hall was active in the UAW Local 2865 for over 10 years.  He first got involved through the sociology department and became the head steward for the Santa Barbara campus, then the campus unit chair.  He was then elected to the executive board of the UAW and briefly served as the UAW president before being voted out in an internal election.  Though he continued his membership with the UAW, his leadership role within the organization ended in 2011 following the overwhelming election of AWDU members into power.  In this interview, he sheds light on his role within the UAW, perspective of the organization, and experience during the internal election process.
"…we were very focused on the nuts and bolts of power in regards to the University…like new activists, we'd be like OK, yeah, you want to talk politics and talk about the labor movement and how it's going to change society.  That's awesome. But we also have to go and go to the chemistry department and physics department and earth sciences and chemistry and talk to people who are not radical about why they should join the union.  And that was hard, exhausting work."

"So so the AWDU campaigned on like, they get, like we could get better contracts by, like, being more militant and going on strike. This leadership works with the Democratic Party. And look, the President Daraka, he's even an officer in the Democratic Party. That's horrible. Like the Democratic Party hates workers, Occupy, militancy, blah, blah. And they just like went around, told everybody this. We were just so unprepared for, like, their use of social media, their, and really unprepared for, like, their dirtbag tactics".
April 27-29, 2011
The UAW Local 2865 underwent an internal election that resulted in a drastic change of leadership.  Those running for positions split into two groups, the Academic Workers for a Democractic Union (AWDU) and United for Social and Economic Justice (USEJ).  Negotiations for the 2010 UAW contract showed signs of internal conflict when five members of the bargaining team organized a Vote No campaign against it.  After this contract was ratified, this internal conflict solidified into two groups, AWDU and USEJ.  The members who made up AWDU were fed up with the bureaucracy of the union and wanted to establish a more grassroots, democratic, and bottom-up structure, while the members of USEJ were previous UAW leaders that named themselves in response to the rise of AWDU.  During the election process, the ballot count was abruptly stopped and resumed as a result of marches, sit-ins, and political pressure.  When the count was finalized, AWDU won all 10 executive board positions and almost 60% of Joint Council positions. 
Former UAW President Daraka Larimore-Hall participated in this election process and said, "it was like playing into all the anti-union stereotypes that are out there in the general public and everything.  It was really soul crushing".  He describes their campaigning tactics as "just gross, very personal attacks".  He said they created websites with photos of USEJ members photoshopped onto Ho Chi Minh and Stalin and spread these through social media.  He speaks more on the origins of the two groups as well as the inner workings of the UAW in his interview found here.
Anonymous Interview: 2012 – 2016 Union Involvement
This anonymous organizer was hired as a "salt" by the UAW and involved in grad student organizing from 2012 to 2016.  In this interview, they describe their experience working under the recently elected AWDU caucus (Academic Workers for a Democratic Union) and the political culture within the UAW.
"When a union in itself is like a social service, a service that stands up for workers and for all people to have rights and to just kind of see it as a cash cow and disregard the fact that the union itself does good work by the fact of giving workers rights I thought was really wrong, and that really turned me off."

"In the hard sciences, most of the departments which are bigger individually than all of the humanities combined, most had no representatives and they weren't interested in changing it because they knew those representatives would not have the same political views as them.  So they would rather have no representation at all, which I would get if we were a political party, but we're not.  We're a union and we're supposed to represent all workers and hear workers and hear what workers want…"
May 1, 2013
The UAW submitted a document stating their initial proposals to Peter Chester, the Director of Labor Relations at the time.  The full document can be found here.
April 2, 2014
Preceding the UC-wide strike on April 2nd, the UAW filed multiple Unfair Labor Practice Charges (ULPs) with the UC for using intimidation tactics involving threatening an international student's visa status and unlawful videoing.  "'We're striking statewide because of patterns of intimidation, threatening with arrests, threatening international students with the loss of their visa and threatening our members with firing,' Malone said" (City on a Hill).  UC Berkeley, UC San Diego, UC Davis, and UC Santa Cruz went on strike April 2nd, and the remaining campuses joined on April 3rd.  On April 2nd at UC Santa Cruz, police arrested 20 protesters for "disobeying police and continuing to riot" (City on a Hill).  Of those arrested were 13 undergraduate students, 6 graduate students, and union leader, Josh Brahinsky.  The arrests occurred early in the morning and by 10:00am, the crowd of protesters grew to 150.  At UCSB, UAW members were joined by United Students Against Sweatshops (USAS), undergraduate, and graduate students.  Footage of the UCSB UAW strike can be found at The Bottom Line and video interviews with protesters at UCSC can be found at City on a Hill Press.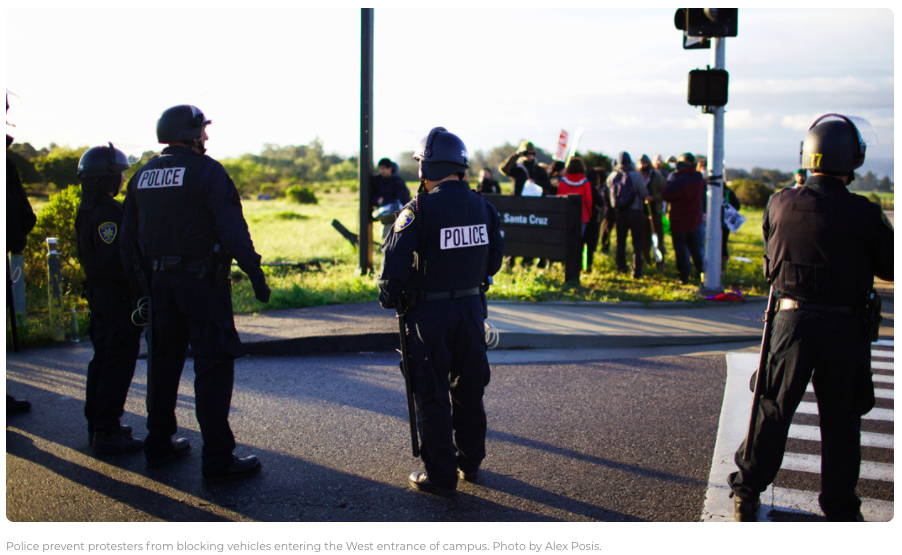 Image Credits:
[City on a Hill Press / April 2, 2014], [Clow, John and Cameryn Brock / The Daily Nexus / April 4, 2014]
2014-2018: UAW Contract Highlights
The University recognized year long appointments provide job security for ASEs

Each eligible ASE will receive up to $900 per quarter and $1350 per semester for childcare expenses incurred.  Qualified dependents include children in the custody of ASE who are under age 12.  Each eligible ASE will receive up to $900 per Summer session for childcare expenses incurred.

ASEs enrolled in self-supporting graduate degree programs are eligible to receive a partial fee remission that is equivalent to what they would receive in UC state-supported programs.

The UC and UAW will meet twice a year to discuss University-sponsored student health insurance plans

Upon written notice, the UAW can request two campus meetings per year.  Any issues that require altering the Agreement between the UC and UAW must be excluded from these discussions

ASEs are entitled to up to 4 months of unpaid pregnancy disability leave.  The University will maintain health insurance coverage for the duration of the leave.

ASEs are eligible for up to 4 weeks of paid leave for pregnancy, childbirth, or related medical conditions.  ASEs will also be approved for up to two additional weeks of unpaid leave for baby bonding

ASEs are eligible for up to 4 weeks of paid leave due to serious health conditions.  This leave can also be used to care for or bond with the ASEs newborn child or a child placed with the ASE for adoption or foster care, provided that this leave is taken within 12 months of birth or placement of the child with the ASE.

ASEs will have access to spaces for lactation support, including expressing and storing breast milk and allow adequate time for an ASE to express breast milk.  If no reasonable space exists, the department/hiring unit will create a temporary space.

The University will engage in discussions with ASEs or the Union to provide reasonable access to existing all-gender restrooms within a reasonable distance to the ASE's work location

Wages will increase 5% from 2014 to 2015, 4% from 2015 to 2016, 4% from 2016 to 2017, and 3% from 2017 to 2018.
June 5, 2014
Members of the UAW and UC negotiated a tentative contract that includes wage increases, increased child care subsidies, and better parental leave payment.  Union members had to vote to ratify this contract, which would replace the previous one that expired in the fall.  This tentative contract cancelled any potential strikes for the rest of the quarter, and the ratification vote was to take place on June 12th and 13th.  The former UAW president and graduate student, Robert Ackermann, stated, "This is a solid deal, in terms of wage increases and other economic benefits… it is not as awesome as maybe some members would like, but we do think it is a good deal. All in all, we are encouraging members to ratify".
December 15, 2014
Jason Struna and Rob Ackermann, two union members with experience in UAW leadership, wrote an article for the Berkeley Journal of Sociology where they dissect the ideology of "social movement unionism" and how it relates to AWDU.  They compare the "old leadership" to AWDU, highlighting problems and solutions from both sides to draw out the efficacy of their leadership.  Their conclusion is that though AWDU had commendable goals, the results led to a weaker union through decreased bargaining power, increased contract concessions, and organizing delays.
June 27, 2018 – Supreme Court Case: Janus vs. AFSCME
The Supreme Court ruled in favor of Janus in that workers don't have to pay "agency fees" to a union that bargains on their behalf.  The argument was that by forcing non-union members to pay agency fees to a union that may share different political ideologies, these agency fees infringe on non-union members' free speech through compelled financial support of such political statements.  This decision gutted funding for unions because non-members wouldn't pay the union, even if they continued to benefit from the union's actions.
This ruling threatened the financial stability,  membership, and unity of unions.  TAs at UCSB expressed these fears in The Bottom Line article and prepared to take steps for the worst.  Since then, the UAW reported on their website that paid membership has continued to grow statewide, despite this court case.  In a paper focusing on public sector unions after Janus v. AFSCME, DiSalvo highlights the legislative follow-up by state governments in attempts to shield unions from bearing the full brunt of this ruling.  A majority of these laws helped push for increased membership and decreased dropout rates so unions could still hold onto substantial funding by paying union members.  
[Janus v. American Federation of State, County, and Municipal Employees, Council 31, et. al.
Supreme Court of the United States.
Retrieved from
https://www.supremecourt.gov/opinions/17pdf/16-1466_2b3j.pdf
]
September 14, 2018
Two graduate students and executive members of the UAW described how the recent UAW/UC Contract for 2018-2022 was regressive and prematurely ratified.  In terms of benefits, they said this contract had "stagnant wages, no housing reliefs, punishing concessions on international student fees…the 3 percent nominal wage increase barely keeps up with projected inflation rates, does not constitute a living wage, which is estimated to be $34,269 for one adult in Alameda County, and does not compete with GSI pay at peer institutions".  There were some gains in sexual harassment protections, but the contract still failed to secure affordable housing, which was considered a priority by most graduate students, and held little to no support for international students.
In addition to the regressive nature of the contract, the voting process pushed for a rushed, undemocratic Yes vote.  The vote took place in summer while most of the workers were away when it should have occurred in the Fall when the union had a credible strike threat.  The bargaining team was explicitly divided about the contract, with 8 members for it, 7 against it, and one abstaining, yet there was no time for them to debate for something better.  The organizing staff also canvassed explicitly for the "Yes" vote by including pro-yes arguments in the email that contained the ballot while pro-no arguments were attached as an external link at the end of the email.  Overall, the ratification process seemed to push forward a regressive contract that diminished the credibility of a strike threat and minimized the power of the UAW.
2018-2022: UAW Contract Highlights
Each eligible ASE will receive up to $1100 per quarter or $1650 per semester for childcare expenses incurred during the ASE's appointment during the academic year.  Each eligible ASE will receive up to $1100 for the Summer session(s) childcare expenses incurred during the ASE's summer appointment

For eligible ASEs, the University will provide a Partial Fee Remission of $100 per quarter or $150 per semester to partially cover campus fees, effective beginning January 2019

If a grievance meeting is scheduled by the University that conflicts with bargaining unit assignments, the parties with the conflicts are eligible to receive paid leave for the time period in which the assignments cannot be rescheduled

Sexual Harassment: The University made a statement of commitment to create an atmosphere free of harassment, exploitation, or intimidation along with a more in-depth definition of Sexual Harassment.  The University prohibits retaliation against or by ASEs.  After a preliminary assessment of the facts, a Title IX / EEO will initiate the Alternative Resolution process, which includes mediation, separating parties, providing for safety, etc.  If the Alternative Resolution is unsuccessful, the Title IX / EEO officer may initiate a formal investigation.  The University will implement Interim Measures for Complainants, which includes changing to a different workstation, schedule, work location, etc.  ASEs have access to remedies such as changing work stations, schedules, etc. The University will implement this remedy in an effort to ensure protection for Complainants/Grievants

The University will ensure all single-occupancy bathrooms designated as all-gender restrooms and shall list the locations of all-gender restrooms onto the campus website

The University will provide Reasonable Accommodations for ASEs who are disabled or become disabled and require additional assistance to perform their jobs.  This interactive process will be used to determine what reasonable accommodations are needed and monitor the efficacy of that support.  The University will cover the cost of a University-appointed licensed health care provider if needed for medical documentation.

The Union shall give a 30 minute presentation in conjunction to orientation for new ASEs.  Attendance at one UAW presentation is mandatory for first-time ASEs and salaried ASEs will have the 30 minute presentation count towards their workload hours

The wage range/rate will increase 3% from 2018 to 2019, 2019 to 2020, 2020 to 2021, and 2021 to 2020.

The University will include access to art/performance studio space in provided workspace and instructional support

No ASEs will lose seniority or compensation due to any legal changes to their name or social security number

The University will request federal immigration or Department of Homeland Security agents to comply with legal requirements before conducting interrogations, searches, or seizures while ASEs are working on University premises and under the University's control.  If a validly executed Search or Arrest warrant is issued, the University will arrange for private questioning and notify the UAW of the immigration investigation

The University will provide for any ASE who was terminated because they are not authorized to work in the United States of America

The University will grant leave time for ASEs to attend any appointments and/or hearings related to immigration or citizenship status.

If an ASE is terminated because they are not authorized to work in the US, the University will meet with the UAW and make reasonable efforts to reemploy that ASE for the following term, provided the ASE has valid work authorization. If any legal changes in regards to these procedures occur, the University and UC will meet to determine if any changes are required

The University will provide a $100 lump sum payment for ASEs with 25% or greater appointments in the Fall 2018 Academic term.
September 19, 2020
Grad students at UC Santa Cruz began organizing to hold a Cost-of-Living-Adjustment (COLA) strike.  On November 7th, 200 graduate students marched to Kerr Hall to deliver a letter of demands to Santa Cruz Chancellor Cynthia Larive and Campus Provost and Executive Vice Chancellor Lori Kletzer.  They wanted to fight against the burden of increasing housing costs on low wages.  As stated in their demand letter, "UC Santa Cruz cannot fulfill its mission to produce outstanding research and to provide outstanding public education if its graduate students remain underpaid, rent-burdened, and economically precarious".  
January 22, 2020
On January 22, dozens of UCSB graduate students called in sick in solidarity with striking grads at UCSC. Nearly 150 grads and supporters demonstrated in front of Storke Tower and marched to the Arbor. The sick-out coincided with a UC Regent meeting where UCSC strikers met with the UC Office of the President. The sick-out was the beginning of the larger Cost-of-Living-Adjustment (COLA) movement at UCSB and drew attention to rent burdened grads and how their living conditions affect their teaching and research. The organizers of the sick-out, many of whom members of the UAW-2865, were planning to draft a list of demands in the near future.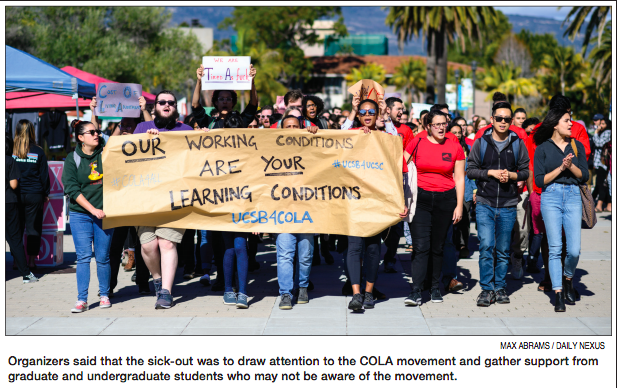 Image Credits:
[Max Abrams / Daily Nexus / January 23, 2020]
[Kamidi, Sanya, and Jackson Guilfoil. (January 23, 2020). UCSB Grad Students Hold Demonstration in Solidarity with UCSB over Cost-of-Living-Adjustment. The Daily Nexus. Retrieved from
http://dailynexus.com/PrintEditions/01-2020/01-23-2020.pdf
]
February 27, 2020
More than 1,000 students and faculty marched from Storke Tower to the Mosher Alumni House on February 27, 2020, in part of the COLA movement.  Graduate students and TAs at UCSB have been facing increased rent burdens and housing insecurity and rallied a demonstration in front of Storke Tower.  This event was also in solidarity with UCSC, which began the COLA movement in September 2019.  Graduate and undergraduate students and faculty marched from Storke Tower to the Mosher Alumni House.  The UCSB4COLA Instagram has picked up over 1,000 followers, giving this movement a strong social media presence behind it.
Kavitha Iyengar: 2020 UAW Involvement
Kavitha Iyengar is the current statewide president of the UAW and resides on the Executive Board with nine other people.  She first took on leadership roles in the UAW in 2016 after several years of union membership. She ran for local campus leadership and then statewide leadership.  In this interview, she describes what drew her to get involved, the inner workings of the UAW, and the union's challenges and goals moving forward.
"Over the last four years, union membership has grown; a lot more stewards and leaders are involved in the union.  And I think there's a real sense among badged workers that when we come together, we can transform our working conditions."

"I experienced a union…whose membership declined for about a decade and who kind of levels of engagement were pretty low in my experience.  And so, yeah, I feel like over the last few years, kind of everyone involved in the union has been really dedicated to rebuilding it and really building it up into a strong fighting union."

"…one of the biggest obstacles is kind of rebuilding from a place of not knowing. Because I think a lot of us come to organizing because it's, you know, part of the air we breathe for whatever reason. That's because of the way we were raised or our ideological predilections. But it's like something that we just think of as a common sense. And I think building that for people in places  where it hasn't been for years is really, has been quite a challenge."
[Iyengar, Kavitha. Personal Interview. May 11, 2020. Link to full interview audio and transcription.]