By Arianna Sanchez & Danyela Ornelas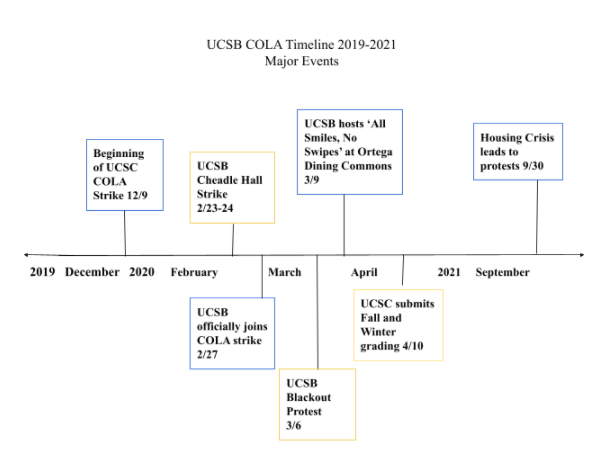 In late 2019, UC Santa Cruz went on strike in order to obtain higher wages, or a Cost-of-Living-Adjustment (COLA). The goal of this strike was to aid graduate students in receiving a liveable wage that would reflect the cost of housing near campus. This came to a total of $1,412 based on their formula that had variables consisting of: rent for a 3 bedroom apartment split in three, pre-tax income, and monthly cost of living adjustment. Many sister UCs followed suit in support of UCSC. UCSB used social media and staged daily protests to demonstrate their support for UC Santa Cruz. These protests began early in the morning at 8:00 AM at Storke Tower until early evening at 5:00 PM, eventually leading to a grading strike in March 2020, where TAs refused to grade the work of their students in order to force negotiations with the UC Office of the President. Here are the major events that solidified the cause of COLA.
December 9, 2019: Beginning of Strike
Organizing emerged gradually on the UC Santa Cruz campus. The Graduate Student Association (GSA) and UAW 2865 had banded together to call for a Cost of Living Adjustment (COLA) from the UCSC administration. To no avail and no negotiation to be seen, resorted to the full-on strike that called for administration attention and gained a noticeable following of Graduate and undergraduate students alike.
The demands were as followed:
Out of rent burden
Without raising tuition or fees
With a guarantee of non-retaliation
Soon other UCs joined the cause of UC Santa Cruz. UC Santa Barbara follows similar tactics as done by UC Santa Cruz, not limited to strikes, marches, sit-ins, and even grade withholding. The message was the same for all UCs who participated: administration must develop a suitable plan that will aid their students to have a substantial wage for a proper living situation.
January 23, 2020: Connection to UCSB
A call to action as UCSB became the second UC to join the COLA cause, ultimately fighting for a better wage for TAs who struggle against the rising rent from Goleta and Santa Barbara County. While this was not a formal announcement of striking, it became the ripple that would inevitably lead to a full-on strike and marches.
Soon other UCs followed suit, many providing numerous support for COLA and creating their own small organizations that would reach locally to the other Graduate students who also work as TAs but still struggle to make ends meet.
Sicheng Wang, Photograph of a rally of groups; graduate, undergraduate, and faculty in front of UCSB Library, Daily Nexus, 23 February, 2020
February 23-24, 2020: Cheadle Hall Strike
A prominent point for COLA in terms of UCSB as it was this day that the Graduate students had declared they would begin a full-on strike on February 27th. In this protest they decided to take over Cheadle Hall, quite literally staying within the building, and only left at midnight on February 21. The purpose of this action was to gain the attention of Chancellor Yang so that he may address the situation and hopefully provide a solution.
By then UCSC had declared their TAs were going on a full grading strike. UCSB had begun a noon rally in front of the library, with numerous attendants all calling for the attention of Chancellor Yang and President Napolitano to address the situation and to be empathetic toward their Graduate students who do so much for all of the UCs across the state. The only person to make a comment was Chancellor Yang to notify The Daily Nexus that meetings would begin soon. As for President Napolitano of the UCs, she remained silent on the matter.
February 27, 2020: UCSB COLA Wildcat Strike
UCSB4COLA organization went into full swing, where a multitude of Graduate Students and Staff joined together to strike against the low wages and minimum support offered by the University despite the rising cost of rent and the housing crisis. There was an overwhelming amount of support at the Wildcat Strike on February 27, about 300 showed up for the second day of the rally. Lasting from the early morning at 8 AM, into the evening hours of 5 PM the strikers went on rallying from the Storke Tower Lawn then onto the Arbor, Mosher Alumni House, and circled the Library on the way back to Storke Lawn. By the end of the rally, COLA had over 1,000 supporters on their side.
The creators and heads of UCSB4COLA found this support to be very profound, wanting to keep the momentum going and using it as a motivator to keep going for the cause, hoping for more involvement by the student body. Not only did they have support from students, but faculty, and even local politicians, some of who mentioned taking the cause to our state's capital, Sacramento.
March 5, 2021: Black Out Protest
On March 5 COLA set out on yet another protest, this one being a 'black out' protest, where all participants were encouraged to wear black, as they wanted to make a comment on the University of California's motto – "Let there be light". Standing in solidarity with the recent graduate students who had been fired at UCSC for withholding grades as a part of their protest, they began early on that Thursday at 7:30 AM in front of Cheadle Hall. Blocking all four entrances and chanting, some got into verbal altercations with UCSB staff who did not support the cause.
UCPD became involved after administration employees were prevented from entering the building, so protesters moved into the halls and floors of the building and continued to chant. After a de-escalation between an advisor and protestors, there was a rally at Storke Tower once again. Many speakers from different unions spoke at the rally, and there were about 3,000 people in attendance. Those of who marched to Henley Gate at 1 PM, chanting about both COLA efforts and the distaste of cops' presence on campus.
March 6, 2020: Gaucho Bucks Cop-Out
After days of protest, rallies, and strikes, the University finally made an announcement of acknowledgment, providing a hopeful solution to the demands of the COLA movement. The university made it clear that they wanted to award the wage increase and cost of living adjustment demands. The only issue? It was to be paid in Gaucho Bucks, the increase being $1,807.51, announced by Janet Napolitano herself.
Though this seemed to be a step in the right direction, it was not quite what COLA graduate students wanted for themselves. Gaucho Bucks are very limited in where you can use them, such as the Bookstore, Arbor, Ortega Dining Campus, and other campus exclusive facilities. What Gaucho Bucks definitely did not help with was rent, one of the bigger and broader issues and concerns of graduate students.
March 9, 2020: "All Smiles, No Swipes"
One of the focuses of COLA was to promote acceptable living conditions for graduate and undergraduate students to thrive in. A clear crisis plaguing students of any campus is food insecurity, where not every student under the supervision of the school has a reliable source of food. As a result, COLA organizers decided to take over Ortega Dining Commons on campus on March 3rd, 2019, where they promoted their "All Smiles, No Swipes" event. On this day, COLA organizers had allowed students, regardless of whether they held a meal plan or not, to enjoy a meal for free at this dining commons.
There was no indication that the UC system wanted to stop this event. During the situation, authorities were called but nothing was done to take COLA protestors off the premises. There were a few altercations between staff and students trying to take out food, but under the protection of COLA organizers, many students took out meals. The goal was to have the student body side with the COLA movement and based on generally positive comments, it worked.
Sanya Kamidi , Photograph of COLA Protestors speaking to students during 'All Smiles, No Swipes' event Daily Nexus, 9 March, 2020
April 10, 2020: UC Santa Cruz Submits Grades
Weeks into the spring quarter and after students had been subjected to learning from home because of COVID-19, the UCSC graduate students who had begun the COLA protests, submitted grades for both fall and winter. The reason? After May 1, these absent grades would change to 'Pass' for students, and no letter grade would be given. This could have caused a number of issues for undergrads and the UC administration shifted this burden off of themselves and onto the students.
Many UCSC graduate students were fired for withholding grades, and because of these eventual submissions, they were up for possible reinstatement, meaning there was no guarantee. At this point, UCSB was the only campus in the UC system that still had not put in grades. Because they had to submit grades, UCSC began putting their efforts into pushing for help in Unfair Labor Practice charges with hopeful backing from UAW. Ultimately, what they wanted was protection from their strikes as grad students. The UAW focused on getting signatures to move forward with the charges, which was harder due to the momentum lost with the COVID-19 pandemic eliminating in-person interaction.
April 10, 2020: COVID/End of Boycott
Ultimately what put a halt to this organization and the remainder of the COLA movement, was the COVID-19 pandemic. UCSB4COLA is still alive and well online on Twitter and Instagram, focusing mainly on the housing crises and upsets happening on campus and within Isla Vista.
September 30, 2021: Housing Crisis
Despite a slow start to the rebuilding of COLA, the cause to promote substantial living wages remains strong especially now with countless students facing the idea of not having reliable housing. A mixture of the pandemic and the influx of admitted students has shone a light on the housing crisis. Some students were even offered hotel contracts for Fall Quarter 2021, as all the housing contracts had already been sent out. A gathering at Storke Tower led to a march to Cheadle Hall to voice their concerns and complaints to the administration for not paying closer attention to this dilemma that could have been easily avoided and solved in a more suitable solution.
References
pay us more ucsc – UC grad student workers fighting for a cost of living adjustment, https://payusmoreucsc.com/. Accessed 12 March 2022.
Bemis, Henri. "Graduate Student COLA To Be Paid in Gaucho Bucks." The Daily Nexus, 6 March 2020, https://dailynexus.com/2020-03-06/graduate-student-cola-to-be-paid-in-gaucho-bucks/.
Kamidi, Sanya, and Jackson Guilfoil. "UCSB Grad Students Hold Demonstration in Solidarity with UC Santa Cruz Over Cost-of-Living Adjustment." The Daily Nexus, 23 January 2020, https://dailynexus.com/2020-01-23/ucsb-grad-students-hold-demonstration-in-solidarity-with-uc-santa-cruz-over-cost-of-living-adjustment/.
Rivera, Arturo Martinez, and Holly Rusch. ""Without graduate student labor, there is no light": UCSB 4 COLA Rallies as Part of UC-Wide Black-Out Strike." The Daily Nexus, 6 March 2020, https://dailynexus.com/2020-03-06/without-graduate-student-labor-there-is-no-light-ucsb-4-cola-rallies-as-part-of-uc-wide-black-out-strike/#search.
Rusch, Holly. ""All Smiles, No Swipes": COLA Protestors Organize Lunchtime "Liberation" for Ortega Dining Commons." The Daily Nexus, 9 March 2020, https://dailynexus.com/2020-03-09/all-smiles-no-swipes-cola-protestors-organize-lunchtime-liberation-for-ortega-dining-commons/.
Rusch, Holly. "Students, Faculty, Community Members Organize Protest Over Housing Crisis." The Daily Nexus, 30 September 2021, https://dailynexus.com/2021-09-30/students-faculty-community-members-organize-protest-over-housing-crisis/.
Swartz, Katherine. "Two Days In, UCSB COLA Wildcat Strike Draws Close to 2,000 Supporters." The Daily Nexus, 28 February 2020, https://dailynexus.com/2020-02-28/two-days-in-ucsb-cola-wildcat-strike-draws-close-to-2000-supporters/.
Swartz, Katherine. "UC Santa Cruz COLA Strikers To Submit Withheld Fall and Winter Grades." The Daily Nexus, 29 April 2020, https://dailynexus.com/2020-04-29/uc-santa-cruz-cola-strikers-to-submit-withheld-fall-and-winter-grades/.
Swartz, Katherine, and Sanya Kamidi. "Graduate Students Occupy Cheadle Hall Until Midnight, Rally for COLA and University Support of UCSC Strikers." The Daily Nexus, 23 February 2020, https://dailynexus.com/2020-02-23/graduate-students-occupy-cheadle-hall-until-midnight-rally-for-cola-and-university-support-of-ucsc-strikers/.
"UCSB #copsoffcampus (@ucsb4cola) • Instagram photos and videos." Instagram, https://www.instagram.com/ucsb4cola/